Home Learning Resources
Welcome to our education resources page. We have almost achieved a whole term of home schooling since the lock down began. Now is the real test, the honeymoon period will have worn off and the novelty of learning and teaching from home will have become stretched to say the least. The online resources are being advertised less frequently and now the sun has gone in as well (into lockdown itself we suspect), this is the time to explore some new ideas and freshen up our teaching and learning from home. Remember reading is key and try and limit time in front of the electronic screens.
We know that we are all facing a very challenging season therefore for the duration of the COVID-19 crisis, we are making our resources available to you and families free of charge. 
We have adapted the resources for home learning so you will be able to share all these resources with your families
If you have any feedback on the resources or require specific support with education home learning activities, please contact James Hall (Head of Education for Five Rivers) via: [email protected].
For educational queries: please contact [email protected] or [email protected],
We will be updating and adding to the resources on a regular basis, so keep checking back here to see what's new.
Learning at Home
Worth starting with ensuring children use the internet safely at home. Here, you can find really good and age specific advice. It is important to ensure all children are safe online and that the access settings on their devices supports this.
One of the problems with home learning is to ensure children get the correct information and the right amount of challenge. With Century, you get instant access to English, maths and science resources and are suitable for Years 3-11, aligned to the national curriculum. Clever as the questions and activities adapt depending on each child's answers etc. Home sign-up is free at present.
More resources that our Education team have found are linked below:
Primary Picture News Resource England  – Places we go
Learning from Home Ideas – Places we go
1. There are lots of fitness videos out there, many from celebrities but our teachers at Spires School in Salisbury have been having their own go and this is the second of their videos. Active and funny, these short films are brilliant and we loved their video last week.
2. If you want to know when some of the other regular activities on YouTube are on over this period the diagram created this week is a great summary.
3. Free workplace skills courses are available through the new online platform, the Skills Toolkit. This platform signposts to free, high-quality digital and numeracy courses to help people build up their skills, progress in work and boost their job prospects and confidence whilst at home.
Courses on offer cover a range of levels, from everyday maths and the use of email and social media at work to more advanced training. All courses are available online and are flexible so that people can work through them at their own pace. These courses are useful for older children and adults alike and the skills and certificates awarded may be very useful for interviews and employment in the future.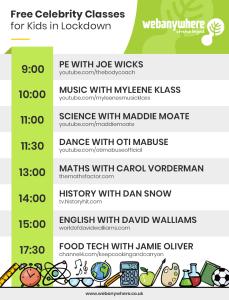 4. For younger learners and linked to the rainbows that are being created and displayed in windows to celebrate the heroes in the NHS, 'Primary Playground' is a great website and includes a very wide range of engaging resources for Primary aged children. All of their fun resources are available here, and we have included their 'Rainbow Scavenger Hunt' here.
5. Activity toolkits contain a number of short 15 minute activities on each play. Designed to help you revise or refresh your knowledge.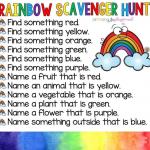 6. Shakespeare learning zone one-stop shop including games, images, videos and galleries arranged by play title. Different stages for different ages.
7. Free maths books can be found on Amazon, for different primary ages – these are Kindle books but can be used on iPads.
8. A free PSHE home learning kit, covering Health.
9. Picture News have a large variety of learning resources available for home learning that are available weekly and focus on the world around us – some of the previous weeks can be accessed on the right sidebar. Here are some suggestions on how these can be used:
A 30-minute Picture News weekly debate, discussion or class assembly using the poster and 'big question' as a stimulus.
As an interactive, easy to change news/current affairs classroom display.
As a class news book to evidence and record a timeline of discussions/what's happened in the world.
As part of a nurture group to use as a stimulus for a speaking and listening intervention.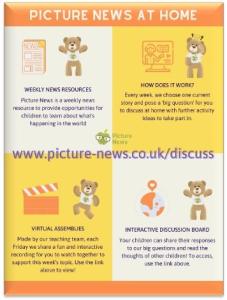 10. There are lots of examples of diaries and logs that children can complete whilst they are not in school. We found a free, printable and very creative 'Lock Down Diary'. A great way to reco
rd what children are thinking and achieving during this strange time.
11 Parents are looking for help and guidance to become the best 'Home Teachers'. The resources available via the links below are really helpful and cover a range of age groups and needs.
12. Finally for this update, online resources are fantastic but we also want to encourage our children and ourselves away from the computers and TV screens during the day. Reading a book and discovering activities that can be shared around books are a wonderful way to learn together.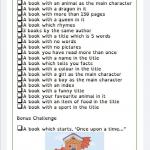 Other resources out there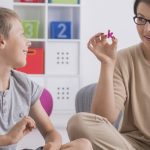 BBC Bitesize is currently changing to produce daily content to support with education at home. Bitesize has a range of learning activities to suit age 3 to 16.
BBC Two, CBBC and Cbeebies is running a special Educational schedule across their TV channels to assist children in their home learning – the full list and times can be accessed here.
https://www.dk.com/uk/information/home-learning-for-kids has some great ideas, too.
For more general and topical education topics, Picture News is a great resource and will send you new materials, via email every week. Each weekly Picture News pack is based around one current news story. New resources are emailed every week!
Here are also 50 educational YouTube channels: https://www.teachingpacks.co.uk/50-youtube-channels-for-home-learning/