Foster Carer with a Passion for Education is Awarded at the Inspirational Women of Sheffield Awards 2022
A long term foster carer with Five Rivers Child Care who is also a Teaching Assistant and Chair of Governors from Sheffield, has been named this year's winner of The Mary Ann Rawson Award for Education at the Inspirational Women of Sheffield Awards, which took place in May.   
The awards ceremony was held at The Old Rectory in Handsworth and was attended by the finalists from 11 categories, including the three other finalists for the award which Usma was named the winner.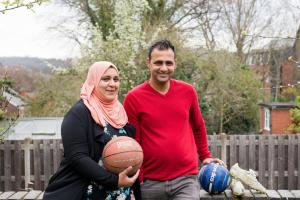 Usma, who has fostered 19 children and young people since becoming a carer six years ago, also works as a full time Teaching Assistant at a primary school, as well as holding the post as the Chair of Governors at a secondary school. Usma was collectively nominated by her colleagues in education and fostering for The Mary Anne Rawson Award for Education for her hard work, determination, and service to the community.  
Usma said: "I was thrilled just to have been nominated for this award, and shortlisted as a finalist from over 800 applications, but to win it was lovely. I don't really like to blow my own trumpet, that's not the type of person I am, but I hope that I can inspire other women, especially other women of colour. 
"Education is something I'm really passionate about. If I foster or work with a child who has no aspirations, I always talk to them about the importance of education and try to help them achieve the best outcomes. I was nominated because of the work I do in education, but also because of my commitment to fostering. As well as being a mother to my three sons aged 21, 23 and 24, I am currently caring for a 10-year-old boy and a 16-year-old young man, who have been in my care for five and nearly four years, respectively. The boys have made incredible progress whilst with me and I'm very proud of all they've achieved." 
Sarah Cooper, Team Manager at Five Rivers Child Care, said: "Usma is a remarkable woman and an amazing foster carer. She gives so much back to the community and still has the drive to do more. I am so pleased she has been recognised for her efforts and given this fantastic award." 
As well as fostering, Usma takes on additional responsibilities within the organisation and is a Foster Carer Representative, supporting new and existing foster carers that fall within her area. When asked about how she finds time to relax, Usma said: "I really switch off when I go on holiday. I make sure that I spend quality time with my sons by either going on holiday, or on day trips. Five Rivers is really supportive, and when we book to go away, I arrange for my foster children to go on PGL activity holidays so they can make new friends and have lots of fun, and don't feel like they're missing out. I also make sure I regularly find time to enjoy a coffee with my friends." 
If you would like to learn more about fostering, you can speak to our carer enquiries team on 01246 643 269.