Altaf and Firoza, specialist fostering
"Each child we've looked after has different requirements so Five Rivers arranges specialist training each time at the local hospital so we're well equipped to care for them when they come to us."
Altaf and Firoza began fostering when two of their four grown-up children left home. At the time Firoza was looking to return to work and realised after seeing an advert for fostering on television that, having raised four children herself, she had the perfect skills to become a full-time foster carer. Since then the couple have looked after three foster children as well as numerous others on respite placements, all with varying health issues including a very poorly baby who required end of life care.
Altaf, a self-employed electrician, said: "As soon as we started the process to become foster carers, my wife was adamant that she wanted to help children with disabilities or health issues as she felt these were the children that other foster carers might be frightened to take on and would need us most.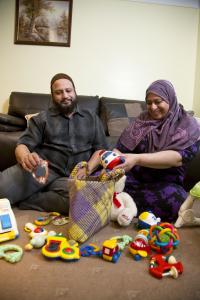 Each child we've looked after has different requirements so Five Rivers arranges specialist training each time at the local hospital so we're well equipped to care for them when they come to us. This covers everything from tube feeding to giving special injections as well as general care for disabilities."
The couple have plans to continue fostering for years to come and Firoza is determined to carry on helping those children who need it most.