Lauren – Digital Communications Officer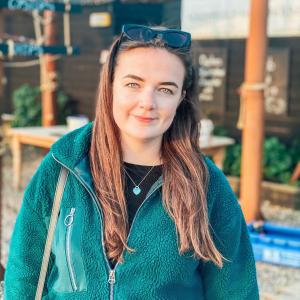 Lauren works in the Communications Team, based at our Head Office in Salisbury. As the Digital Communications Officer she works hard to tell the stories of our foster carers and looked after children and promote the excellent and varied work of our colleagues across the business.
How long have you worked at Five Rivers?
I first joined in 2019 for a year, then re-joined in 2021 after finishing university.
What do you do?
I work as the Digital Communications Officer in the Communications Team. My role is heavily based around paid social media advertising, alongside all other types of digital communications you can think of, such as website developments, email marketing and online events.
Have you always worked in Child Care Services?
Yes. My first role after graduating university was with Five Rivers. In this role, I have been able to learn so much about marketing and digital communications, but I've also learnt everything I know about the child care sector.
Tell us a bit about your career?
I first joined the Communications Team as the Marketing Intern between my second and third years at university as part of my BA Communication and Media degree. It was a fantastic opportunity to build up my experience. Before graduating university, I learnt so much about marketing, the child care sector and working life in general.
After my one-year internship was over, and I'd completed my final year at university, I had gained enough experience to apply for the role of Social Media and Communications Coordinator in 2021.
I was delighted to be able to re-join Five Rivers after finishing university and further develop my experience in marketing within the child care sector. I am lucky to be able to work with a fantastic team of marketing professionals, from whom I have learnt so much already, and I continue to learn from them daily.
As part of the wider communications eco-system, my remit is to specialise in digital marketing, with a strong focus on social media.
What is the best thing about working at Five Rivers?
For me, the best thing about working at Five Rivers is that I can really feel that caring for children is at the heart of everything we do here. All my colleagues, no matter their service area, are committed to the mission of turning children's lives around.
How does Five Rivers support you in your career?
I am incredibly appreciative of the way Five Rivers has invested in me and my career from when I was an intern, to my current role. The people around me have always believed in my abilities and my team are always encouraging me with opportunities to learn.
Five Rivers has helped to build my confidence hugely in the last few years and to me, that is invaluable.