Creche manager turned foster mum encourages others to consider fostering
Meet Hannah Hetherington, 42, a Five Rivers foster carer from the West Midlands. Hannah first considered fostering when her full time hours as the manager of a creche at her local golf club were cut, and she had to take up extra duties that required longer and more demanding shifts. Some of Hannah's friends are foster carers and hearing about their experiences reaffirmed that fostering was something she wanted to pursue.  
Hannah and her partner, Dave, did their training in February 2020, just before the first lockdown, and were approved to foster in April 2020 joining our local Five Rivers network of foster carers across the West Midlands. The couple have been fostering a young girl Bethan*, on a short-term basis.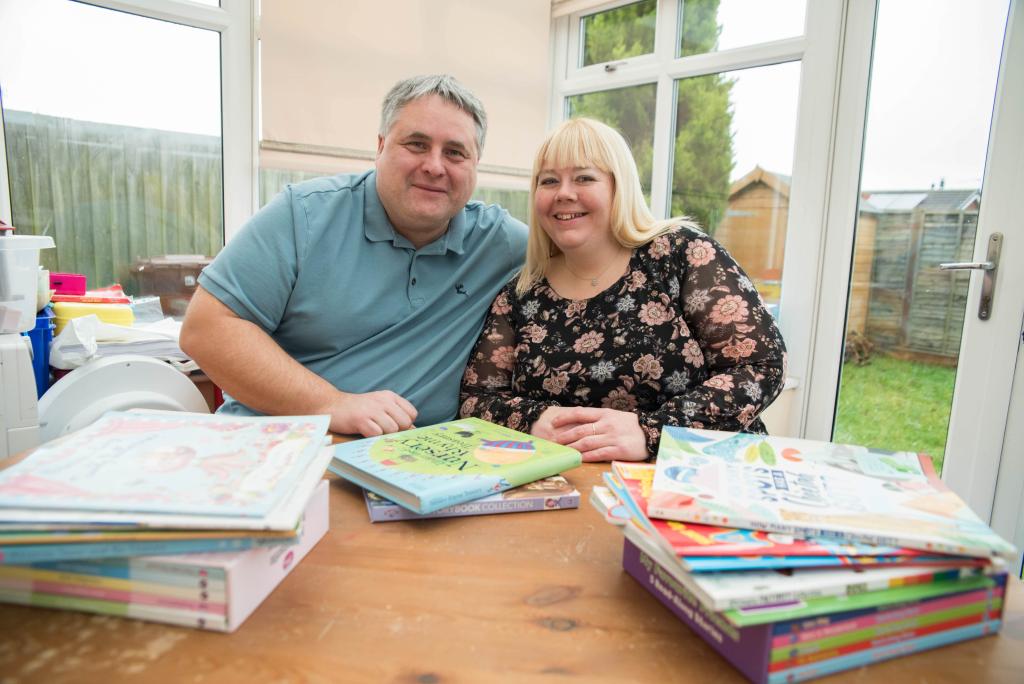 Speaking about her decision to leave her position as creche manager and become a foster carer, Hannah said: "I had been working at the creche for over 10 years, and as much as I enjoyed it, fostering was always something we had wanted to do. My hours were being reduced and I was having to take on late night and early morning shifts around the club, and it was starting to feel hard. I have always wanted to help children, hence my job at the creche, but I felt that fostering was my opportunity to give a loving home to children who haven't had the best start in life, so we just went for it." 
"We don't have children of our own, but we knew that as soon as we started fostering, we would treat that child as we would have our own. I wanted to help those children that don't have the simple necessity of a loving and stable family, and to let them know that someone is in their corner." 
Hannah considered keeping her job at the creche while fostering, but because of the late hours she was required to work, alongside Dave's full-time employment, in the end she decided to foster full-time.  
Hannah added: "Seeing the difference we have made to Bethan's* life and to her confidence makes fostering the most rewarding job in the world. We have helped her through some challenging times, and to be able to give her the support system every child deserves is incredible."  
Hannah and Dave love to include Bethan* in their favourite activities, like going to watch their local football team, Hednesford Town FC. Speaking about this, Hannah said: "The club kindly gave Bethan* a season ticket, and she comes along to every game in her football shirt and chats to the players. She loves it and it is so nice to see her interact with other people. 
"Bethan* loves cooking and cleaning and is always helping me around the house. I have shown her how to peel potatoes, and we make pasta together and her and Dave bake cakes and biscuits. She just loves being involved, and she loves spending time with Dave. Whenever he collects her from school, she always runs to him to be picked up." 
Offering advice to anyone considering a career change to fostering, Hannah said: "Make sure it is something that will suit your existing family life, and just keep smiling, and always listen. Sometimes that is all these children need, is for someone to listen. 
"It is also so important to use the support that is offered to you as a foster carer, Five Rivers have been there through our fostering journey day and night. They really care about us, and there is always somebody there, whether you need help or are just having a tough day and need someone to talk to." 
"The qualifications, support and resources provided by Five Rivers have made us even more confident in our ability to care for Bethan* and enjoy our time together as a family. Fostering has been the most rewarding experience and seeing such a positive change in Bethan* is the best feeling in the world." 
The number of children needing foster care in the UK has risen by 36% in the last year. With more children and young people in need of a loving and safe home, fostering offers flexible working, a competitive fostering allowance and the comfort of working from home because of the constant demand for carers. It is a vocation which can be done from home and is suitable for singletons, couples, and families alike.  
Commenting on Hannah's journey as a foster carer, Shingirai Chigwedere, Fostering Team Manager at Five Rivers Child Care for the West Midlands, said: "Hannah has done an amazing job at taking those skills she already had and using them to help a child who really needed a loving and safe home. Although being a foster carer expands beyond a traditional nine to five job, making a positive impact to a child's life can be extremely rewarding. 
"The pandemic has changed how people want to live their lives and has reminded us that life is too short to not do something you love. And with more people inspired by the pandemic, there is a renewed sense of life to help others and to be in a job that feels rewarding." 
"Fostering with Five Rivers Child Care offers flexible working, a competitive fostering allowance and the comfort of working from home. There is no need for previous experience, and you may find that you have transferable skills from current or past employment that will be invaluable to you as a foster carer. We offer 24/7 support from qualified and experienced staff and a wide range of specialist training."
We're very proud to have Hannah as part of the Five Rivers family or foster parents, and appreciate everything she does to help support us in our mission to turn children's lives around. Thank you Hannah!
With over 35% of people feeling unsatisfied in their current jobs, and 20% of people planning to switch to a career that helps others, we're calling on people across the West Midlands to consider a rewarding career in fostering as the number of children and young people needing a safe place to live continues to rise. 
People across the West Midlands, from all backgrounds and communities can be considered to become foster carers but they must be over 21 years of age. This includes single people, co-habiting couples, LGBTQ+ couples and people living in rented accommodation. You will need a spare room for each foster child. 
For more information on foster care, contact Five Rivers Child Care on 0345 266 0171, or email [email protected].  
*Please note, names have been changed to protect the identities of the children in care.