Careers in our residential child care service
We're looking for kind, committed people who want to start or continue a career in residential child care
Could you be that someone who can connect with a child or young person and change their life? We're looking for dependable, responsible role models to help look after our children and young people.
Many of our children have experienced a great loss and adversity in their lives. Our residential staff help them to recover, encouraging healthy routines, building their confidence, and offering safety and security.
We currently have opportunities at the following homes:
The Orchard in Taunton  |  Avon House in Salisbury  |  Ebble House in Salisbury  |  Eden House in Rochester  |  Clannad in Orpington  |  Bourne House in Salisbury  |  Fountain House in Leeds  |  Osmington House in Weymouth
What does being a Residential Care Worker involve?
As a Residential Care Worker, you will have strong relationship building skills and lots of patience. Personal qualities can be just as important as qualifications. Day to day tasks include:
supporting the children to learn healthy routines
taking them to appointments
helping with schooling
completing household tasks
ensuring electronic records are up to date.
You will also be able to take the children on trips – how many people can say they get to go kayaking, watch a film or go to a theme park in their working day?
The role can be challenging at times, as our children have often experienced a great deal of loss and adversity in their lives. As a result, our young people are likely to have attachment difficulties. That's why we're looking for dedicated individuals who won't give up and want to make a career out of this rewarding role.
About our residential homes
Five Rivers provides therapeutic care in residential homes for children and young people who are unable to live with their own families. We have eight homes in total across the country – each of them spacious and well-maintained, with gardens and communal living areas. Every child in our care has their own bedroom, with toys, games and plenty of space to play.
Part of creating a family environment is ensuring the children and adults spend quality time together – once the school day is over, we all sit down to eat together, just as any other family would. We also celebrate Birthdays and special occasions like any other normal household.
There are many reasons why children may be in residential care; they may have experienced abuse, neglect, family breakdown, parental illness or disability. Due to the loss and adversity our children have faced, being a Residential Care worker can be challenging. That's why we build resilient teams who are well equipped to deal with these challenges and are committed to providing a supportive, stable family home.
Training and career progression
Our leadership team will invest in your progression as a professional in the child care sector. We source and deliver up to date training opportunities, including the following courses:
QCF Level 3/4 in Children and Young People
Therapeutic Models of Parenting
A Proactive Approach to Supporting Children
A Care Model of Practice
We also prioritise and discuss your personal development goals to ensure you're getting the most out of your career. That's one of the key reasons we were named Employer of the Year at the National Children and Young People Awards 2021.
"Five Rivers gave me the opportunity to rebuild my career by having ongoing training. There's always plenty of scope to progress if you choose to."

– Five Rivers Residential Child Care Worker
Benefits
Rotas planned weeks in advance: You will have a predictable, regular working pattern that you can easily plan around.
Mealtimes while on shift: You will benefit from eating communally with your team and the children you look after.
Sleep in allowance: You will receive a payment of £50 (on top of the annual salary) for every sleep-in.
On-going training and learning: Our Learning and Development team are committed to sourcing and delivering up to date, high quality training opportunities. If you do not already hold QCF Level 3/4 in Children and Young People, we will put you through this qualification.
Simply Health cashback scheme: You will automatically be enrolled in the Simply Health Cash Plan Scheme, which means you can claim back the cost of your everyday healthcare appointments. The membership also offers free, immediate access to a 24/7 GP telephone helpline.
Employee discount scheme: You will receive access to a free online platform called Perkbox. The employee discount scheme gives you exclusive access to a wide range of retailers and services.
Employee assistance programme: We know how demanding our lives can be, so we take great care in supporting and caring for you. You will automatically have access to free, confidential, 24/7 counselling.
Long service and recognition scheme: We appreciate the invaluable contribution our employees make, so we recognise and reward loyal service. Our recognition scheme provides additional holiday entitlement for length of service and financial recognition for ten years and above.
Annual leave allowance: You will receive a generous annual leave allowance that will increase with your length of service.
Employee referral scheme: We know how important it is to have the right workforce, and we're confident your network includes professionals who could bring expertise and experience to our work. We offer financial rewards to staff for successful appointments from your network.
Leadership, support and supervision
We place significant focus on maintaining a healthy, positive culture within our homes. We encourage teams to reflect on their practice collaboratively, offering collective support and guidance. Everyone in our team has monthly supervisions with a senior staff member, so you can discuss challenges, celebrate successes, and discuss any training needs. In addition to this, you will work alongside a Psychotherapist and Education Team, who will provide additional support when needed.
We know how important it is that we look after you, so you can look after the children who need you. We also accept that life isn't always plain sailing – that's why we provide all staff with access to free, confidential, 24/7 counselling should they need it.
What our people say
Even though working in residential care can be challenging, our staff tell us they feel supported and satisfied in their roles. In our recent staff survey, 92% of people said they'd recommend Five Rivers to others.
"My team isn't a team, it's my family. It's like home from home and I wouldn't want to change my job or work anywhere else."

"I've always worked with children. I love children, they're just amazing. I like working for Five Rivers because there's such great opportunities to train and learn – every week, every year, there's something new."

"It's a passion for me – working with children. I like to offer them stability – to feel safe in their environment. We give them the chance to be somebody, prepare them for life, and have a great time."
Staff Stories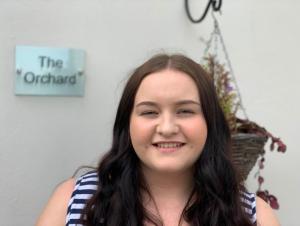 Nicole, Residential Child Care Worker
How would you describe your role of a residential child care worker? Being a Residential child care Worker has allowed me to form some truly lovely relationships with young people, […]
Read more
Work with us
We are always looking for engaged and passionate people to work for us and have a range of opportunities.
View our current vacancies
Our Values
Our values are at the heart of everything we do. We live these values day in, day out.
Respect • Adaptability • Integrity • Support • Excellence
Find out more