Working in our specialist residential service
About our specialist residential service
Since 1989 Five Rivers has provided therapeutic care in residential homes designed for children and young people who are unable to live with their own families and who have experienced adverse childhood experiences (ACEs) such as trauma, abuse and neglect.
We are committed to providing a homely, nurturing and supportive environment where children and young people can recover their self-esteem and rebuild relationships of trust with adults who will are ambitious for them and who will enable them to access all possible life opportunities they deserve.
We invite you to watch this video to learn all about one of our Residential Homes which has integrated services for children including education and assessment and therapy –  Fountain House. Fountain House is one example of our residential homes at Five Rivers that uses the Attachment and Trauma-Informed Care model. We are always looking for caring, energetic, innovative, child-centred and resilient individuals to work in our homes within a passionate and supportive team, and to join us on our mission of turning children's lives around.
Read More
---
Our standing is reinforced by being a 'social enterprise'; we are driven by social objectives and the surplus we make is reinvested into the services we provide for children and young people, and the teams who support them.
The residential homes provide a nurturing environment for children and young people who are referred to us by local authorities who value our expertise. We provide a range of solo, group living and emergency services around the country – all our homes are well-appointed, part of their local community and are safe, comfortable and respectful of the children and their needs. In every home, the team supporting children and young people work on a rota which includes shifts and night sleeping.
Consistency in daily routines is key to create a safe and predictable environment for our children and young people, and therefore our team members must be well-organised, committed to safe routines and be responsible role models – demonstrating good parenting and positive relationships. All our teams run our homes in the same way as any larger family home – we have the same routines, mealtimes, cleaning and maintaining responsibilities and perform them to the highest standard.
Our children and young people deserve adults who can commit to being part of their lives and who will support them over time and not perpetuate negative experiences they may have. Team members bring with them their own diversity of life and experiences and this enriches the lives of children and young people through introduction of new interests such as adventurous activities, arts and crafts, traditional sports, cookery, dance, animal husbandry and other outdoor and indoor pursuits.
We have a range of roles working across our services for children and young people starting with Residential Support workers where we have both trainee and qualified roles and moving through the structure to Team Leaders, Deputy Managers and Registered Managers. We have a range of support roles to the residential services and these include; Referrals and Placements Officers, Quality and Compliance Co-Ordinators and Part-time Support Workers. The team works together at the highest possible level in a supportive and consistent way with the focus placed upon the children in our care. We support our children and young people within an integrated structure through education, assessment, therapy and community-based activities.
Five Rivers has invested in the support of highly-qualified clinicians and experts to advise, train and support our staff as they develop their skills and abilities to progress a career in children's social care. We place a high value on learning experiences for our team members and all will receive a full induction and ongoing training and qualification progression.
Residential childcare is a wonderful opportunity to provide children and young people with life experiences that will improve and enhance their outcomes. The adults who share in this journey are valued, professional individuals who share in and create positive memories for children and for themselves.
Attachment & Trauma-Informed Care (ATIC)
Five Rivers Child Care has developed an innovative approach termed Attachment and Trauma-Informed Care (ATIC) for children (Under 12 years) and young people (over 12) who have experienced significant adverse childhood experiences. These two approaches syntheses scientific knowledge and evidence-based best practice of what works in supporting children and young people who have experienced abuse, trauma, and neglect.
The ATIC model incorporates multiple elements some of which are: a trauma-sensitive culture, neurological & biological knowledge around the impacts of adversity which have taken place within primary attachment relationships on both mind & body, approaches to professional resiliency for staff, proactive approaches to behavioural management, and providing effective interventions for the children and young people in our care.
Our unique approach uses two parallel journeys for children and staff which ensures we help staff & carers to develop not only the right knowledge but necessary skills to maintain the sensitive healing relational styles needed to help children turn their lives around. We also focus on supporting children and young people to recover from the impacts of adversity through our sensitive application of approved approaches and interventions.
Integration
ATIC is an "everybody approach" from the senior leadership to the individual practitioner e.g. therapeutic care staff, teachers, managers, clinical practitioners to our support staff in our offices. We do this to maximise the treatment benefits for the child across both across every moment of the child's daily life due to our ability to maintain relationally based attachment and trauma-focused practice.
Integration is more than just a word, it's a means by which we can ensure the organisation, teams, and individuals work together to ensure we attain the best outcomes for children and young people who have experiences of adversity.
Without all parts of the system working together consistently, we will not maximise the opportunities to 'Turn children's lives around'. We are therefore committed to working in a Trauma and Attachment sensitive integrated manner and embracing the principles of the approach e.g. collaborative working, proactive and not reactive management, etc.
ATIC has a set of clearly defined practice principles that our teams and individual practitioners are asked to commit to. This means for example a commitment to effective monitoring and managing their own psychological and physiological states, considering the impact of our decisions on other groups and individuals, etc.
We realise that children and young people may often need specialist support to explore traumatic memories that have not been processed. We, therefore, ensure a psychological practitioner can support the child and their carers through the care journey.
Benefits
You will benefit from working with a well-established, child-centred organisation that is committed to turning children's lives around. With over 30 years' experience, we are well equipped to support you to develop in your role. We know how demanding and challenging our work can be. We value our people and want to recognise and reward you for the work you to.
Read More
---
Some of your rewards and benefits include:
On-going training and learning: Our Learning and Development team are committed to sourcing and delivering up to date, quality training opportunities. We continually look at new learning initiatives to make sure we're providing the best continuing professional development we can. We also prioritise and discuss your personal development goals to ensure you're getting the most out of your career.
Simply Health Cashback scheme: You will automatically be enrolled in the Simply Health Cash Plan scheme which means you can claim back the cost of your everyday healthcare appointments. The membership also allows you free, immediate access to a 24/7 GP telephone helpline.
Employee discount scheme: We are pleased to offer our valued employees access to a free online platform called Perkbox. The employee discount scheme gives you exclusive access to a wide range of retailers and services.
Employee assistance programme: We know how demanding our lives can be and that life isn't always plain sailing, so we take great care in supporting and caring for you. You will automatically have access to free, confidential, 24/7 counselling.
Long service and recognition scheme: We appreciate the invaluable contribution our employees make, so we recognise and reward loyal service. Our recognition scheme provides additional holiday entitlement for length of service and financial recognition for ten years and above.
Annual leave allowance: Our annual leave allowance which increases with your length of service.
Employee referral scheme: We know how important having the right workforce is and we're confident your network includes professionals who could bring expertise and experience to our work. We offer financial rewards for successful appointments to our staff from your network.
Staff Stories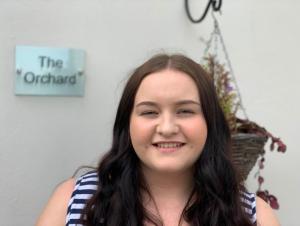 Nicole, Residential Child Care Worker
How would you describe your role of a residential child care worker? Being a Residential child care Worker has allowed me to form some truly lovely relationships with young people, […]
Read more
Work with us
We are always looking for engaged and passionate people to work for us and have a range of opportunities.
View our current vacancies
What Our People Say
Despite every day challenges, people working for Five Rivers believe it's a great place to work. Some of comments people made during our IIP Assessment interviews included:
"I don't think there is anything else my manager could do for me. We have
a great working relationship"

"Close team working both in our team and with other teams is what success is all about."

"We want our children to feel loved and cared for and that comes from a hug within."

"Team communication is great and the way we think about each other."

"A warm welcome from everyone and place that feels safe."

"We are a family with cohesion".
Our Values
Our values are at the heart of everything we do. We live these values day in, day out.
Respect • Adaptability • Integrity • Support • Excellence
Find out more