Working in our specialist fostering service
About our specialist fostering service
For more than 30 years, we have helped thousands of looked-after children and young people. Our service is committed to providing high quality, stable, foster families for children and young people. Our teams play a crucial role in recruiting, training and supporting foster carers across England. Thanks to our experience and reputation, the number of foster carers we are supporting is growing year on year.
Read More
---
Our standing is reinforced by being a 'social enterprise'; we are driven by social objectives and the surplus we make is reinvested into the services we provide.
We have a variety of roles in our fostering service including, but not limited to, administrators, social workers, support workers and fostering service managers. The team works together to recruit foster carers, support their application process, place children and young people in appropriate homes and support foster carers with the job of looking after children and young people.
We are committed to our teams having strong relationships with our foster carers, so we have invested in a number of local offices across the country.  Most of our staff work across a region, from an assigned office.
Our highly trained foster carers provide stable, caring homes for the children who need them most. The support of our fostering service is crucial in making this possible.
Benefits
You will benefit from working with a well-established, child-centred organisation that is committed to turning children's lives around. With over 30 years' experience, we are well equipped to support you to develop in your role. We know how demanding and challenging our work can be. We value our people and want to recognise and reward you for the work you to.
Read More
---
Some of your rewards and benefits include:
On-going training and learning: Our Learning and Development team are committed to sourcing and delivering up to date, quality training opportunities. We continually look at new learning initiatives to make sure we're providing the best continuing professional development we can. We also prioritise and discuss your personal development goals to ensure you're getting the most out of your career.
Simply Health Cashback scheme: You will automatically be enrolled in the Simply Health Cash Plan scheme which means you can claim back the cost of your everyday healthcare appointments. The membership also allows you free, immediate access to a 24/7 GP telephone helpline.
Employee discount scheme: We are pleased to offer our valued employees access to a free online platform called Perkbox. The employee discount scheme gives you exclusive access to a wide range of retailers and services.
Employee assistance programme: We know how demanding our lives can be and that life isn't always plain sailing, so we take great care in supporting and caring for you. You will automatically have access to free, confidential, 24/7 counselling.
Long service and recognition scheme: We appreciate the invaluable contribution our employees make, so we recognise and reward loyal service. Our recognition scheme provides additional holiday entitlement for length of service and financial recognition for ten years and above.
Annual leave allowance: Our annual leave allowance which increases with your length of service.
Employee referral scheme: We know how important having the right workforce is and we're confident your network includes professionals who could bring expertise and experience to our work. We offer financial rewards for successful appointments to our staff from your network.
Staff Stories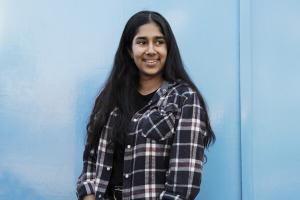 Johan, Operations Manager, Fostering
Johan is a Fostering Operations Manager. He is home-based but spends much of my time visiting offices in his area of responsibility – which is the whole of the West of […]
Read more
Work with us
We are always looking for engaged and passionate people to work for us and have a range of opportunities.
View our current vacancies
What Our People Say
Despite every day challenges, people working for Five Rivers believe it's a great place to work. Some of comments people made during our IIP Assessment interviews included:
"I don't think there is anything else my manager could do for me. We have
a great working relationship"

"Close team working both in our team and with other teams is what success is all about."

"We want our children to feel loved and cared for and that comes from a hug within."

"Team communication is great and the way we think about each other."

"A warm welcome from everyone and place that feels safe."

"We are a family with cohesion".
Our Values
Our values are at the heart of everything we do. We live these values day in, day out.
Respect • Adaptability • Integrity • Support • Excellence
Find out more