We're 'Golden' says Investors in People assessment!
We are delighted to announce that we have received the prestigious Gold accreditation by Investors in People (IIP) following a thorough assessment. Moreover, we achieved the top 'high performing' score across six additional indicators.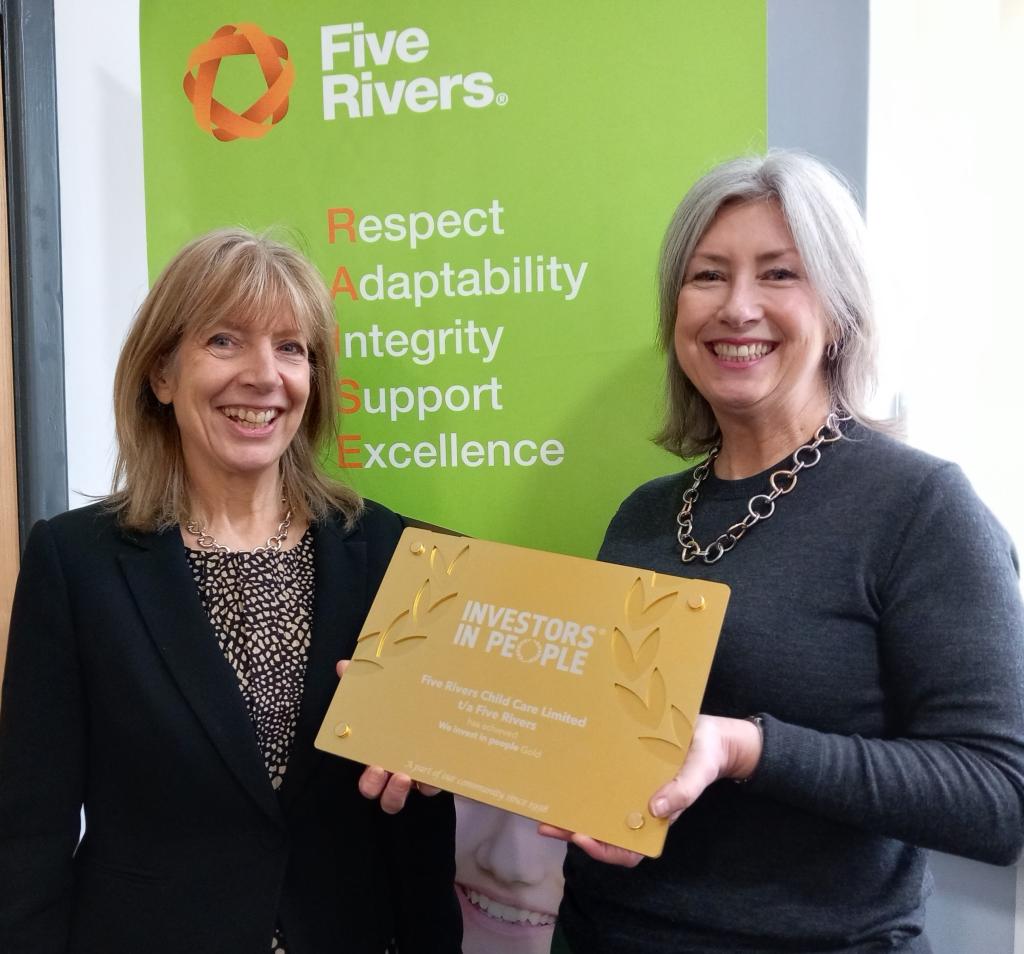 What is Investors in People, and why does it matter?  
Investors in People (IIP) is an international body encouraging organisations to value their people above all else. IIP offer accreditations, including 'We invest in people' to organisations who can show they're actively making their workplaces better for their employees. Accreditations last for three years.     
This accreditation is important as it is an independent judgement of what it's like to work at Five Rivers. The report opens by saying, "It is evident from the assessment that people believe Five Rivers to be a great place to work" and gives numerous examples of how and why this organisation values the people who work here.     
What's happened to get this accreditation?  
IIP stringently assesses an organisation against a specific framework to understand how it leads, supports, and improves its people and processes. The latest assessment involved a survey sent to all staff for their anonymous feedback, followed by face-to-face interviews with 10% of our staff randomly selected from all parts of the organisation to have a deeper discussion about what it's really like to work for Five Rivers.      
The results were outstanding. The report told us that our people appreciate the caring, supportive and trusting environment we create for them at work. They feel respected for their contributions, and they're willing and able to help others do well at Five Rivers too.     
The independent assessment also applauded our clear values and regular communications and involve our people in planning and decisions. They pointed out that we also notice and recognise hard work and good performance and that we give people clear career development frameworks with ongoing support for learning and growth.     
Why do an IIP assessment?  
To look after children, we need to first look after ourselves.      
We are committed to this regular independent judgment to ensure our workplaces are the best they can be and spot the areas we can do better. This is more than just a box-ticking exercise; we know how vital our people are to delivering life-changing work to children. The last three years have been particularly challenging for everyone, so this year's assessment was more critical than any other.     
Pam McConnell, Chief Executive and Founder of Five Rivers said, "At Five Rivers, we have a strong focus on creating the right environment for staff to feel cared for, so they can do the same with vulnerable children." 
   
What does it all mean?  
Better care for children  
Our staff, and the children we care for, are our highest priority. Simply put, the positive, structured and nurturing culture described in the assessment report underpins the working environment here. When staff feel heard, held and supported, they can do their important work and make a lasting positive difference to vulnerable children.      
How are we creating a positive culture at work? The report showed that 94.2% of our employees said their behaviour reflects the organisation's values.    
Tone at the 'top'
Described as 'passionate, caring and inspirational', with a clear commitment to our mission to turn children's lives around, our Senior Leadership Team play a crucial role in setting the vision, tone and behaviours we see across the organisation. A highly positive endorsement of senior managers as role models who, in IIP words, reflect the 'dedication and clarity of mission' at every level across the organisation.    
We have highly motivated teams 
We are a relational organisation that holds people at the centre of our thinking to ensure they are well at work and equipped to do the job they are here to do.      
The accreditation and survey results assure us that we are investing heavily, and in the right ways, in our team's development, progression and performance nationwide. We have relevant and accessible training and development opportunities in place. We also have clear career pathways, help mentor and develop 'fresh talent', and are committed to developing long-standing staff.      
Investors in People have a simple vision: to make work better, something we wholly subscribe to. Head of HR Kate Bromfield said, "Our Gold re-accreditation demonstrates our unwavering commitment to developing and supporting our employees. We're delighted not only to have been awarded Gold status, but the icing on the cake is to have strengthened our performance across several key areas."     
We are proud to have independent and public recognition of how we are committed to 'making work good'. Our results were better than our previous assessment, which is incredible given the challenging times we've been through in the past few years. Now work begins to improve and build on what we have.   
Pam McConnell's closing comments are, "It's been lovely to have something to celebrate and enjoy as an achievement; now we turn our attention to the areas we can improve on further to ensure we keep building a welcoming, learning culture."    
Are you thinking about a career change? Or looking to move to a new organisation? Come and join an organisation that puts staff first. View our careers page.