Monday 1st – Sunday 7th February 2021: Children's Mental Health Week – Express Yourself!
By Katharine Anderson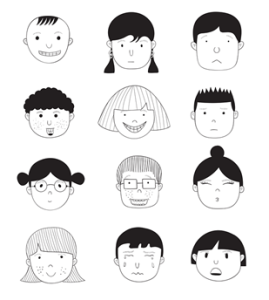 The theme for Children's Mental Health Week 2021 is 'Express Yourself', encouraging children (and their adults!) to explore the diverse ways in which they can express their thoughts, ideas, and feelings.
We often encourage children to talk about their feelings. The benefits of sharing are well-documented, and include, but are not limited to, increasing reflective capacity, facilitating brain development (synaptic connections which support with stress management and reduce fight/flight/freeze responses), supporting a child's ability to manage in the world, aiding the expansion of their language for their feelings, enhancing a child's ability to take in comfort and receive care from trusted others, and increasing insight into their own emotional awareness. If we do not support children to be with their feelings, in particular, those which are difficult, these feelings can be carried into adulthood. This painful emotional baggage can be heavy, long-lasting, and limiting.
 "Many children need help to think about their feelings, others need help to have these feelings in the first place" – Margot Sunderland.
When a child can share their feelings, which are met and validated by an emotionally responsive adult, their relational experiences grow. A child may, for the first time feel: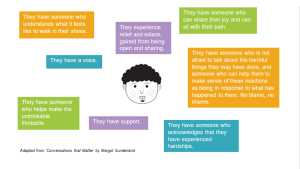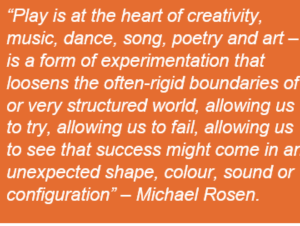 Sometimes it can be hard to find the words to express oneself, especially for a child or young person. Children and young people are often told how they should be, how they should think, how they should act, and what is permissible in terms of what they share. We need to change this and inform the children in our lives that they do not need to follow a rulebook. We want them to feel supported, heard, and seen.
Expressing yourself can be a creative experience. Art, drama, dance or movement, music, writing, poetry, clay or modelling, puppetry and photography are all ways in which the self can be expressed – ways of showing how you are feeling, how you see yourself, the world, or others, what feels good and what we may be experiencing as difficult or tricky. There may be a medium a child is particularly drawn to or one which they avoid. Encouraging children to be unique in their expression and welcoming that it is key.

Here are a few ideas of how we can encourage interactive creative expression with children and young people:
The Squiggle Game
Equipment: a piece of paper, and some pens/pencils.
Take a pen or pencil and draw a squiggle on the piece of paper. Handover your pen or pencil to the child and ask them to make a drawing out of that squiggle. Give them as long as you like to do so. Once they have done their drawing, you can ask them about it. If there is a particular theme in the drawing, for example, an angry character or monster, you can ask further questions here. 'Do they have a name?', 'Can you tell me how they are feeling?' 'What would they say if they could speak?' You can explore the content with the child, noticing if the child puts up any resistance, and only being with the image for as long as feels helpful and appropriate.
'What would happen if'
Equipment: paper and arts materials
Take it in turns to come up with 'What if' statements. For example, 'What would happen if the sun shone all day long?' The other player can respond with what they think could or would happen. This can be verbal, or can be expressed through drawing, painting, using oil pastels, or any other art medium. Something may come up in the scenarios that you want to explore further.
Two Tellers
Equipment: paper and arts materials
Start by saying 'Once upon a time' and take it in turns to say the next word. You can scribe the story for the child as you go along and can choose to create a storyboard or art piece afterwards. The child may want to act out their story with drama, or puppets.
Draw your feelings
Equipment: a piece of paper, and some pens/pencils.
Ask your child to map how they are feeling in their body. This Place2Be video is easy to follow along.
Miming Game 
Equipment: 2 hats or envelopes, cards with adverbs written on, cards with actions written on.
Ask the child to draw a card from the adverb hat (examples: happily, sadly, angrily, joyfully, slowly, quickly, casually, etc.) and a card from the action hat (walk, study, watch TV, get dressed, eat, ride a bike, etc.). The child then has to mime the action in a way that reflects their adverb (e.g. slowly riding a bike). Guess, and take it in turns.
Make a photo montage or collage
Equipment for photo montage: camera phone or camera, printing facilities or a photo application
For collage: magazines and newspapers
Give the child free reign to create a montage or collage. You can offer an idea or theme (such as feelings) or you can see what they come up with. Afterwards you can sit and explore the image with your child.
Arts and crafts hacks!
Puppets
A really easy way to create a puppet is to simply draw a face onto your fingertip! You can have multiple characters with different expressions, and you can easily change them by washing them off. Be sure to use a pen which is washable, not permanent!
Puppets can also be created using ice cream sticks, or by tailoring and reinventing old socks. More DIY tips can be found here.
Clay
If you do not have access to any clay or playdough, you can try your hand at making clay with ingredients from your kitchen. You'll need some salt, water, corn starch and a saucepan! Recipes can be found easily online – including this one.
Further Resources
Talking mental health: animation and toolkit from the Anna Freud Centre
Giving children an understanding of what mental health is. There is also an accompanying toolkit for teachers/adults.
A letter about how I'm feeling
A template from YoungMinds to help children explore their feelings and emotions.
For teachers
Activities for exploring feelings – Mentally Healthy Schools
Three activities designed to help children explore their emotions and feelings, and to consider in what situations these emotions may arise.
Beano Resilience Lesson Plans
Some plans for teachers on emotional literacy and resilience for both KS1 and KS2.
We all have mental health: e-learning for teachers – Scottish Association for Mental Health
An e-learning resource introducing teachers to the topic of mental health.
For parents and carers 
'You're never too young to talk mental health: tips for parents and carers' from the Anna Freud Centre.
Talking to my child – MindEd – tips, videos and suggestions for parents.