Five Rivers Child Care Named Employer of the Year at the National Children and Young People Awards
We are delighted to announce that we were awarded the prestigious Employer of the Year Award at the National Children and Young People Awards 2021. These awards recognise individuals and organisations from across the child care sector who are passionate about creating better outcomes for children in care.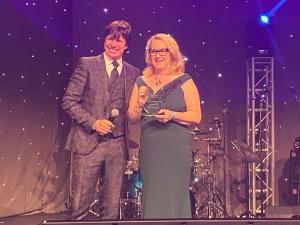 On passing the application and interview stage, we were shortlisted for four nominations across three categories: Employer of the Year, Children's Home Team of the Year, and Home Manager of the Year. Two of our amazing Registered Managers, Naome Cynthia Muzeremwi (Manager of our Clannad children's home), and Chelsea Bryan (Manager of our Orchard children's home, were both shortlisted for the Children's Home Manager Award (South).
After much anticipation, on Friday, 22 October, we attended the Children and Young People Awards. We were up against eight other organisations in our category, so it was a nervous wait to hear who would be crowned Employer of the Year 2021. We were delighted to be announced the winner as this award celebrates exceptional employers who are committed to their staff and delivering an excellent service to children, young people, and families. This commitment is the beating heart of our organisation.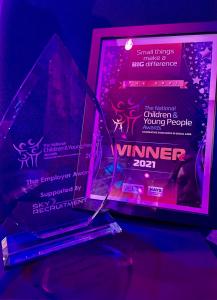 Nicci Willock, Director of Children's Services, said: "I am so proud that we have been named Employer of the Year. We invest so much in our people, and they invest so much back in return. Our staff and Foster Carers show courage, dedication and perseverance every single day, and they do one of the most important jobs. It's their work with one another and the work they do with our children which creates the positive culture we have here at Five Rivers Child Care."
"We're delighted that our commitment to providing an excellent level of care to our colleagues, Foster Carers and children, shone through when we were interviewed by the judging panel. As much as it was about demonstrating the systems, processes, training, support, and infrastructure we have here, it was so clearly about our colleagues, and their dedication to the work they do, that helped us to achieve this award."
The interview gave us the opportunity to highlight individual services and team members at every level, who allow us to support children across the country. Being a social enterprise enables us to give back to children's services in a meaningful way and prioritise providing an extra level of care and training to colleagues. We put our values and mission at the heart of everything we do and are very proud to have been recognised for our achievements.
It's always an imperative of ours to focus on the working culture that we provide here at Five Rivers. We need to pay close attention to how we look after our staff and carers, now more than ever. These incredible people have been on a very tough journey over the last two years and have come to work and opened their doors for children when many were closing.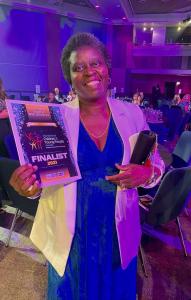 We want to say a huge congratulations to our two Registered Managers who were finalists in the Children's Home Manager Award; Naome Cynthia Muzeremwi from our residential home Clannad, and Chelsea Bryan from The Orchard, who was highly commended for her work at the award ceremony. Also, to the exceptional team at Avon House – congratulations on being a finalist in the Children's Home Team Award.
Thank you to all our staff and Foster Carers in the Five Rivers family, that help deliver our mission of turning children's lives around. Without you, we simply could not offer the excellent level of service and care that we have been recognised for with this award.
A huge well done to all of the other shortlistees and winners across the other categories!