Announcing Our Six Young Poet Laureates
In a first for Five Rivers Child Care, we are proud to announce the news that we have selected six young Poet Laureates for 2021/2022! 
A Poet Laureate is a chosen person that marks special occasions throughout the year, with a celebrated poem. A Poet Laureate is an honorary position. Each young person chosen by Five Rivers will be asked to write a poem to mark special occasions, events, and festivals throughout the next year, including Christmas, Diwali, and Easter, among others, as well as awareness campaigns celebrating children in care and raising awareness of some of their challenges, such as Foster Care Fortnight and Care Day.  
Five Rivers Child Care has chosen six children and young people from across the country, that have shown talent and a keen interest in poetry. Each of the poets selected is a child in care that is supported by Five Rivers' Participation group, led by Olivia Doherty, who organises fun events, educational activities, and encourages the children and young people to impact change for all children in care.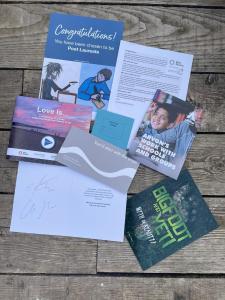 This week, the six Five Rivers Poet Laureates received a package in the post containing a signed copy of Poet Clare Shaw's book, a copy of Mary Colston's children's book, a card signed by the National Poet Laureate, Simon Armitage, a Waterstones voucher, as well as an invitation to join a writing course in either Devon, Shropshire or Yorkshire, run by Arvon, a national writing organisation that has worked with many successful writers. Each young Poet Laureate will also receive virtual training and support in the lead-up to each event, to help them put together a poem they're proud to share.  
Five Rivers intends to share the poems with other children in our care, and our foster carers and colleagues across the nation.  
Congratulations to our six new Poet Laureates, we eagerly await your work!