Care to listen to our young people?
Care to listen? A new series of podcasts exploring the UK care system – made by Five Rivers' young people
In this powerful series, we hear first-hand experiences of what it is like to live and work in the care system. We hope the podcasts will help to dispel some myths, reduce stigma and support positive change.
This creative project has the support of the Children's Commissioner, Anne Longfield who agreed to be interviewed as part of the series. Anne's support is a positive endorsement of the project which seeks to address some of the issues faced by some of society's most vulnerable people.
Series 2
Episode 7 
Olivia, our participation lead, interviews three of our young podcasters. She asks them what they think the series has revealed. 
Episode 6
Aaliah, the teenage daughter of a Five Rivers fostering family interviews fellow fosterers Amaan and his mum Usma. They share their love of fostering and the difference it makes to young people's lives.
Episode 5
Yusuf grew up in care and is now an artist, poet, writer and trainer. As an adopter and foster carer, he feels strongly about the words used to stigmatise children in care .
Episode 4
https://soundcloud.com/user-724872833/care-to-listen-tolu-abisogun-i-dont-want-to-be-another-negative-statistic
Five Rivers care leaver Tolu was put into care at age 5 . She shares how she realised her ambitions to get to university with the support of her foster carer and support workers.
Episode 3
Rachel Springford is a care-experienced consultant social worker who works for Frontline in St Helens and the board of Every Child Leaving Care Matters #ECLCM. She shares the story of how one social worker's words haunted her until she acted on them to change her life in her 30's.
Episode 2
Our podcasters meet Ian Dickson, Chair of the first ever Care Experienced Conference held at Liverpool Hope University in April 2019. Ian grew up in care with stigma and discrimination and says now it's time for young care leavers to start feeling good about themselves as individuals and as a community.
Episode 1
Dr Cat Hugman grew up in care. She is now a lecturer in social work with a PhD in the lives of care-experienced adults. She tells her story to our young podcaster, and explains why she chose to get involved with the first ever national event to unite the care experienced community in England – the Care Experienced Conference. Cat works at the University of Cumbria and is also core member of the independent foster carer panel for The Fostering Company in the North East of England.
Series 1
Episode 6
https://soundcloud.com/user-724872833/care-to-listen-karylle-phillips-dont-struggle-alone-tick-the-box-and-get-your-entitlements
Social work expert Karylle Phillips is on a mission to promote the rights and entitlements of care leavers by raising aspirations, promoting individual potential and celebrating the success of care experienced young people in education. Talking with our young podcasters, she shares her experiences of growing up in care and answers their questions about how she overcame all her challenges to get to University.
Episode 5
Committed to making a real difference for children who have been abused or neglected, founder of Five Rivers Child Care, Pam McConnell is interviewed by a young person in Five Rivers' care. She was asked whether children should be shown love when they're in care.
Episode 4
https://soundcloud.com/user-724872833/care-to-listen-tolu-abisogun-i-dont-want-to-be-another-negative-statistic
In this podcast, Stuart Haden shares his experience of being the care system. We hear how important it is for placements to be stable to avoid breaking down. Stuart, now a grandfather, is a co-director of Investing in Children, an organisation committed to championing the rights of children and young people.
Episode 3
Ric Flo, creative hip hop artist, channels his thoughts and feelings about his care experience through his music. Ric hopes his music will engage and support other children in the care system. After a series of placements, Ric was fostered in Bournemouth; he speaks candidly about his experiences of learning to trust, love and accept support from those around him. Ric's school, social workers and foster carers played an important role in his journey. The backing track on this podcast series was provided by Ric, thank you for sharing this with us.  
Episode 2
Anne Longfield, the Children's Commissioner for England, is a passionate advocate for children's rights. Anne has the power to demand data from the government and influences public opinion on what help is needed for young people in care. Our young podcasters M. and J.K. quiz her about what is being done to help siblings in care and the importance of Care Day.
Episode 1
Our young podcaster K, 17, interviews Callum Lynch of Who Cares? Scotland. Callum, a care leaver, graduate, Harvard Alumnus and advocate for care leavers' rights speaks eloquently about his experiences of being in care. He tells us about how he is striving to help those, who are often ostracised and marginalised, experience a lifetime of love.
About the project
To kick start the project, we delivered a day's training with our budding young journalists, where they learnt how to research, plan and record their own podcasts. They then set off interviewing a range of care leavers, activists and specialists. Their series of interviews explores the world of fostering and residential child care through the different perspectives of influential people.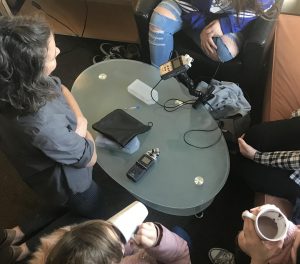 ---
Our participation officer, Olivia Doherty accompanied the young people on their training and all their interviews. She says,
"I've been blown away by the questions they came up with. They didn't need any prompting at all to come up with ideas. It's been an amazing opportunity for them to learn new skills and meet inspirational people. I really hope this series of interviews will go some way to dispelling some of the myths and stereotypes surrounding children in care"
We are extremely grateful to our Youth Council whose idea it was to make the podcast series. The podcasts are part of the group's dedication to Care Day.
We're hugely grateful to Anne's team who have shown great support for the project and have interviewed our young people about the project for their digital channel IMO Hub.