Wiltshire Foster Carers Invited to The Queen's Garden Party in Recognition of their Lifelong Commitment to Fostering
Kathy and her husband Steve were invited to The Queen's Garden Party at Buckingham Palace in May, to reward and recognise them for their lifelong commitment to caring for vulnerable children. Kathy and her husband Steve were invited to The Queen's Garden Party at Buckingham Palace in May, to reward and recognise them for their life-long commitment to caring for vulnerable children.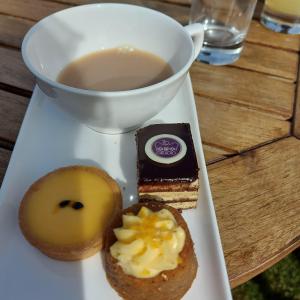 Kathy and Steve were first invited to The Queen's Garden Party in 2020, which was cancelled due to the pandemic, but received a call earlier this year to invite them to this year's event, on the year of the Queen's Platinum Jubilee.
Kathy said: "It was an absolutely fabulous day! We were very lucky as it was beautiful weather, the week before they had torrential rain. The gardens at Buckingham Palace were huge, and not at all what I was expecting, with a very natural landscape and a lake. There was a big afternoon tea tent with lovely sandwiches, lots of cakes, scones, and tarts. There was a band playing as you went in, and another by the Royal Tent.
"We were told about three weeks before that unfortunately the Queen wouldn't be attending, but Kate Middleton, The Duchess of Cambridge, Prince Edward and Sophie Countess of Wessex and Princess Alexandra, the Queen's cousin, were in attendance. I spoke with Prince Edward who was very lovely and spent ages speaking to each person and asking them lots of questions about where they were from and what they do."
Originally dairy farmers, Kathy and Steve started helping young families in 1982, two years before they got married. They joined an organisation called WRVS, similar to today's Sure Start Scheme, where they were assigned to a young boy named Robert who used to stay at their farm at weekends and holidays, and who they are still in contact with today. Kathy was working for a family that had six children, two of which were adopted, which made her start to think about fostering and adoption, and soon after they started fostering with the Teenage Placement Team in Tower Hamlets.
Over the years, Kathy and Steve have adopted seven children, fostered countless other children and young people, and worked with many organisations to help vulnerable children, many of whom they are still close with today.
Kathy said: "We never really had a plan to do any of this. We used to live and work on a farm, as well as foster up to six children at a time. When farming took a hit,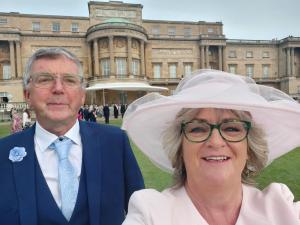 my husband Steve decided to retrain to be a social worker as we had been fostering for quite a few years by then. I also worked for the local authority and did their adoption training and was part of their adoption panel.
"We then started fostering with Five Rivers Child Care in 2003. While training for his social worker qualification, Steve actually worked at Ebble House, one of Five Rivers' children's residential homes in Salisbury, which is how we came to know the organisation. We currently care for four young people with disabilities who have stayed with us under the Wiltshire Shared Lives scheme; Aimee, 25, who came to live with us when she was 7, Alec who is 18 and was 3, his biological sister, *Lily, who is 17 and was 2, and Chardonnay who is 18 and came to us when she was 11.
"It was a great honour to be invited to The Queen's Garden Party and recognised in this way. It was such a lovely event and something I will always remember."
Kate Ennis, Team Manager at Five Rivers Child Care, said: "Kathy and Steve have given so many children a safe, loving home over the years. They're excellent foster carers, and I am so pleased that they have been recognised for their work and commitment to turning children's lives around."
If you are considering fostering and would like some more information call our carer enquiries team on 01722 626271.
*Name has been changed to protect identity.