Kate and Andy – Foster Carers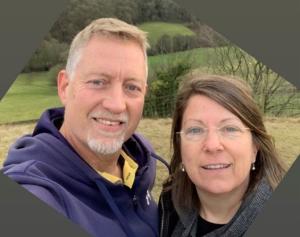 We joined Five Rivers as Foster Carers in August 2020 after transferring over to them from another IFA (independent fostering agency).
We have been full-time Foster carers for just over 12 years and have cared for a number of children and young people from various backgrounds. We have gained a lot of experience in caring for children and young people with additional needs, including physical and learning disabilities as well as children who just need a loving and supportive foster family.  We have mainly fostered children in long term placements. alongside bringing up our own daughter from the age of 4. We have always felt confident that this has been a positive life experience for us all as a family.
We had often considered transferring to a new IFA that would better support our needs but had always put it off as we were concerned it would be overly complicated and difficult to do …. Once we had contacted Five Rivers and had our initial meeting with one of their Social workers who came out to visit us at home, we soon discovered that we were wrong and transferring to Five Rivers was in fact a very straight forward process. We were fully supported throughout the entire process by our Five Rivers assessing social worker, who worked with us to complete the Form F assessment that is required to become a potential new Foster carer or to transfer to a different IFA.
We did have the added complication of going through the entire assessment during the restrictions of COVID19 and lockdown, we were still able to continue our assessment via MS Teams and phone calls as well as face to face when possible. We also did "skills to foster" training course virtually. which we had done during our original assessment 12 years ago but it was a very worthwhile and valuable opportunity to redo the training course and refresh our skills and knowledge alongside other potential new and experienced carers.
At the end of the assessment, we were invited to attend panel again this needed to be a Virtual panel via MS Teams, It was very professionally organised and we were soon made to feel at ease by the panel members. We were again fully supported along the way and everything was explained as we progressed. The panel members were all able to ask questions and discuss with us any points they wanted clarifying.
We were delighted to be approved as foster carers with Five Rivers and have enjoyed joining the Five Rivers team who have all been very welcoming and supportive. The training and support provision that Five Rivers put in place for their carers is excellent and we are so glad we made the decision to transfer to them.