What we do
Five Rivers Child Care is one of the UK's most experienced practitioners in turning around the lives of vulnerable children.
We remove them from what is typically a spiral of descent. We give them sense of belonging and self-worth; we equip them with education and life skills; and we set them up to progress into family life and, ultimately, independence.
We operate from 22 locations around England, guided by a senior leadership team recruited from every key discipline of child care.
We are also proud to be a partner of choice of over 135 local authorities and NHS Trusts, providing a comprehensive and joined-up service across five key focus areas.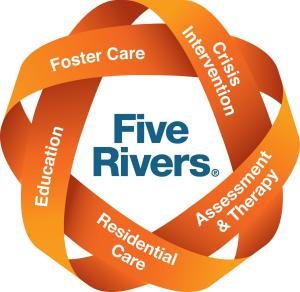 Fostering
We train and support rare and special people who can meet the intensive challenges of giving a vulnerable child the experience of family life. We also address the need for specialist foster care, such as placements for parents with children, and for terminally ill children.
Residential
This is where our story began, and today we run seven homes across England. Much more than just 'looking after' children, our homes offer a therapeutic approach that maximises the chances of making positive and lasting improvements.
Education
Simply, we regard education as the passport to every child's future. For many, this begins with showing them that they actually can learn, and then progresses to the joy of learning, advancing and achieving.
Crisis intervention
Five Rivers is called on in emergency situations (such as placement breakdowns) to bring calm and stability to teenagers, and indeed children of all ages. We see crisis not so much as a logistical issue to 'solve', but as an opportunity to effect real change through fresh thinking.
Assessment & Therapy
This service, and its growing affiliate network, harnesses clinical psychology to support our internal residential, education, social work and fostering teams. Increasingly, this service is also becoming outward-facing, working alongside, or as an alternative to, CAMHS.
All our work with children has been built by the talents of people. We are unashamedly selective, choosing those who bring assets you can't teach – such as curiosity, humanity, passion and empathy. We then train and develop them with expert insight and technique. Five Rivers recruits adults from every walk of life and thrives on the diversity we attract.