Clannad
Location: London
Gender: Mixed
Age Range: 8 to 17
Capacity: 5
Our children come from all walks of life. We work with each child holistically, not only developing them academically but also morally, spiritually and socially to help them on their journey to recovery. The school and the home are situated on the same site, making it easy for the children to access the facilities. Both the Education and Residential staff work seamlessly to provide a safe and nurturing environment where the children can grow.
The school day
We meet and greet our students at 9 am. The first 30 minutes is spent in 'Early Morning Activity' This is when we talk about what is going on in the world around us, the timetable for the day and any key messages, whilst playing a board or card game. We have a clinical psychologist who works alongside each student to help them on their journey to recovery. These sessions happen twice a week.
Formal lessons start at 9.30 am. The timetable focuses on core subjects in the morning, with foundation subjects happening in the afternoon. Each lesson lasts about 45 minutes. After each subject, there is a short break to help the students refocus and refresh. Throughout the day points are awarded based on personal targets set by the teachers and pupils (these points are then added up to give students weekly certificates, reward time and termly prizes (vouchers/trips) to motivate them to achieve).
The student is at the heart of everything we do. Their bespoke timetable is developed based on Clannad School's Initial Assessment which looks at their Mathematics, English, personal interests, and previous school reports.  From this, our teachers and specialist, trained HLTAs develop relevant and engaging activities for the students to meet the needs of each pupil.  The National Curriculum and SMSC form the base of our curriculum. Below is an example of a typical day at Clannad School.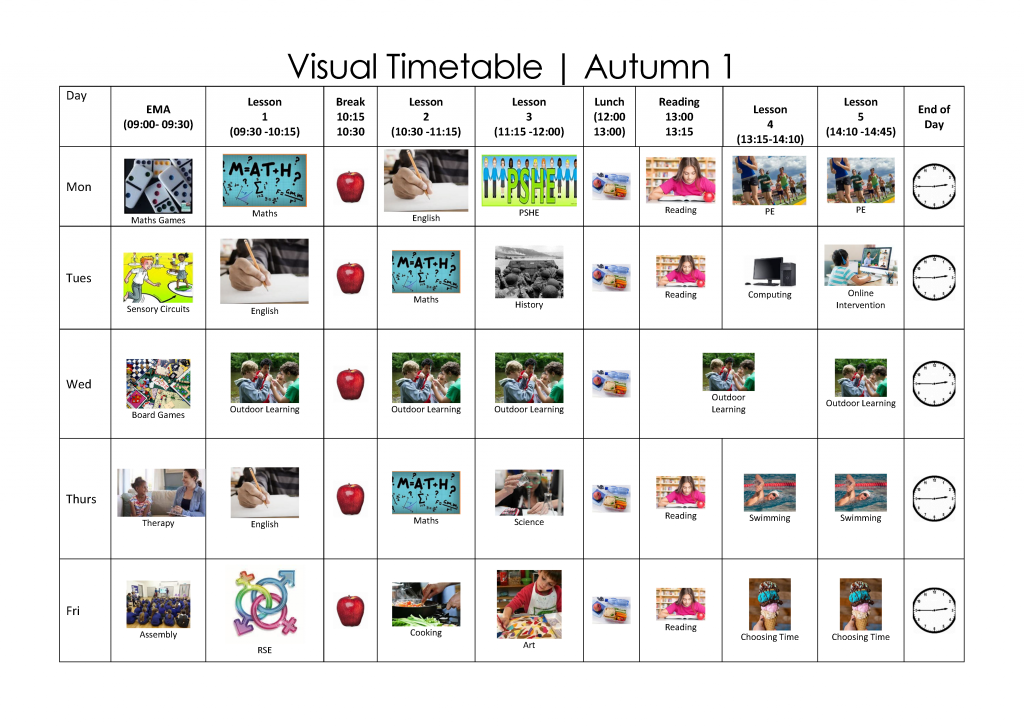 Assessment
Assessment is critical to measure the progress of our students. We do this through formative and summative assessments throughout the academic year. Examples include quizzes, tests, academic and practical challenges. This is carefully used to inform planning and communicated to the relevant team(s). On a practical level, we use B Squared and Teacher assessment frameworks (Learning Ladders); these enable us to closely monitor students across all subjects to identify gaps in learning to determine areas for development and track progress.
The assessment results are shared with the students. It is important they understand how they are doing and how to get to the next level. This is information is also shared with third parties e.g. social workers and relevant professional bodies as appropriate.
Enrichment
Pupils benefit from extra-curricular activities that enrich their learning experience and help promote British values. They learn how to swim at the local Leisure centre through one-to-one lessons and join the local library to support and improve their reading skills. Some of the other planned programmes include:
Trips to various adventure centres.
Farm visits.
Trips to places of worship.
Visits to museums.
Talks by the local police to raise awareness of bullying and violent behaviours.
Cultural Day.
Sports Day.
Art & Craft Day.
The curriculum
Clannad School strives to provide an outstanding education for its pupils. The balance between both core and foundation subjects is critical. We have designed activities that meet the requirements of the national curriculum, however, the learners that we have required a bespoke programme, in which they receive a broad, balanced education, that considers the individual differences of their backgrounds, abilities and needs. Cultural capital plays a pivotal role in helping the pupils understand how their work fits into the real world. At Clannad School, we want every pupil to reach their personal best in everything that they do. This will help them become happy, confident, and responsible young people who are able to lead and work alongside others.
Subjects:
Numeracy.
Literacy.
Science.
We also offer several foundation subjects, such as:
Art.
Computing.
PSHE/RSE.
Geography.
Design Technology/Food Technology.
History.
PE.
On Wednesdays, we offer an offsite curriculum that allows pupils to access learning outside of Clannad school. These outdoor provisions enable our pupils to experience a different style of learning. It has proved to be extremely successful academically, socially, emotionally and physically. Our curriculum has been designed to help pupils achieve. When they achieve, whether it be through reaching a personalised target or completing a piece of work, this is then rewarded with stars which turn into cash vouchers that can be used to purchase games, books, art sets, at the end of the term. This strategy is part of our behaviour programme which is based on a reward system that helps pupils engage more with their learning.
Facilities
Our teaching environment comprises two classrooms. The rooms have been designed to maximise learning and include, private study booths, desktop computers (with controlled Internet access), large TVs and a range of interactive resources.
Emerald Room
Emerald room is our base. The room is outside the residential home and holds four private study booths where each child has access to a desktop computer. The room has a large TV to aid teaching with a whiteboard. Displays are dotted around the room showing pupils achievements both academically and personally, creating a warm friendly environment. There is also a round table for one-to-one tuition.
Ruby Room
Ruby room is located on the ground floor of the residential home. It is used for one-to-one tuition and is equipped with one computer and a large TV screen, there is also an area for pupils to work. The room holds a small library with age-appropriate books. Our Art Department also resides in this room with a dedicated sink, cupboard space and organised resources.
The Garden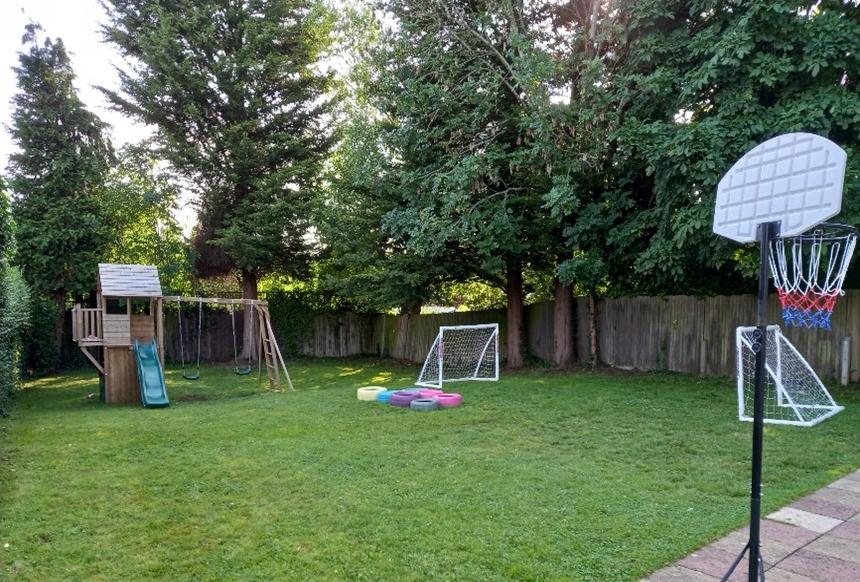 Clannad school is a very small intimate school with a maximum capacity of five pupils. Pupils have one-to-one support or work in very small groups.
There are designated areas within the school that pupils may use as calming spaces when dysregulated. These include but are not limited to:
The front garden, just outside the Emerald room.
The back garden (climbing frame and swings).
The reading corner at Ruby room.
Therapy room.
Clannad staff are trained to work therapeutically, using trauma-informed strategies with pupils, to recognise potential triggers for the individual children they work with.  Moreover, Clannad has its own in-house clinical therapist who is available two days a week to support both staff and pupils who may be struggling. All the pupils at Clannad understand that when they need a break or they need to regulate themselves, they can go into the back garden for some self-regulation time.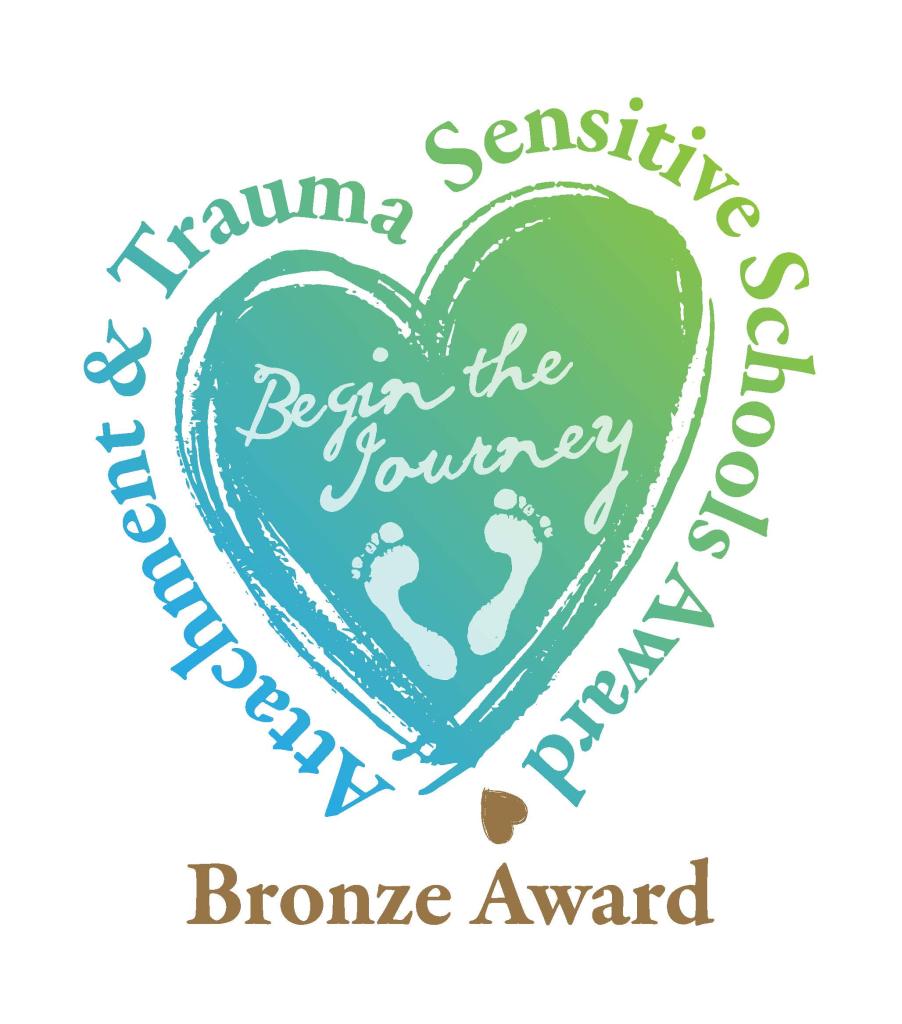 The Attachment and Trauma-Sensitive Award validates schools that demonstrate a culture of compassion and nurture, fundamental components for getting children into a state of 'learning readiness'. The award is issued only to providers who can demonstrate they have met its rigorous quality standards.
While a selection of our school policies are available to download, please contact [email protected] if you can't find what you're looking for.
---
Clannad School
Headteacher: Utibe Abasi-Umoren
Email: [email protected]
Mobile: 01689 873608
Proprietor: Five Rivers Child Care Limited
Chair: David Howard
Phone: 01722 435799
Head office: Five Rivers Child Care Limited, 47 Bedwin Street, Salisbury, Wiltshire SP1 3UT
Phone: 0800 389 8708
Email: [email protected]
Website: www.five-rivers.org
There were no complaints registered under the formal procedure during the preceding school year.